Cătălin brings 26 years of brand identity and marketing experience and a multidisciplinary dental background to his work. Cătălin started MarketDental 16 years ago, he brings innovation and flexibility to every project, he understand how important is for a dental practice to have a proper, efficient and professional presence.
Each service created is grounded in the needs identified through both his family dental practice and the experiences of thousands of clients.
Cătălin holds a Master of Arts degree in Visual Arts and a Bachelor's degree of Fine Arts.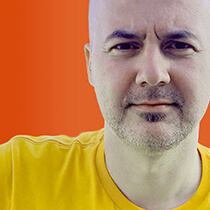 Our dental marketing services are exclusively crafted to meet the unique needs of your dental practice, ensuring a 100% personalized approach. We strive to create a compelling image that aligns with your vision while effectively attracting and retaining patients.
Răzvan stepped into the web development world 25 years ago and driven by a passion, he continued to learn and evolve in most important technologies required. Being focused on quality and custom optimum solutions for each project, he is looking for the perfect combination, like a source code sorcerer, of any of his magical languages. Razvan holds a Bachelor's degree in Computer Science.