Cătălin brings 26 years of brand identity and marketing experience and a multidisciplinary dental background to his work. Cătălin started MarketDental 16 years ago, he brings innovation and flexibility to every dentist's project, he understand how important is for a dental practice to have a proper, efficient a nd professional presence.
He also manage his family's dental practice. Cătălin holds a Master of Arts degree in Visual Arts and a Bachelor's degree of Fine Arts from the University of Art Bucharest.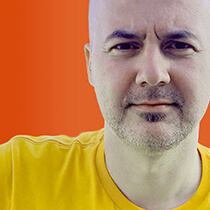 All our design services are custom and unique, 100% personalized for your dental practice.
We do our best to make sure you have the right image that reflects your vision, and also attract and retain patients.
Răzvan stepped into the web development world 25 years ago and driven by a passion, he continued to learn and evolve in most important technologies required. Being focused on quality and custom optimum solutions for each project, he is looking for the perfect combination, like a source code sorcerer, of any of his magical languages. Razvan holds a Bachelor's degree in Computer Science.