What Does Organic Search Mean?
https://marketdental.com/
Posted by

MarketDental on Wed, 2 Apr 2014
Search engines offer two types of search results: Paid Search Results and Organic or Natural Search Results

---
Search engines offer two types of search results:
Paid Search Results

The paid ads are typically highlighted at the top or on the side of the page. Paid results can get your dental website to rank higher for a specific dental procedure or keyword phrase. This method of advertising is called PPC and is a way of buying visits to your website, rather than attempting to earn visits organically. PPC stands for pay-per-click, you pay a fee each time one of your ads is clicked.
The downside of this method is that sometimes can be costly (based on your location) and a prospective patient may skip these results over them in favor of the natural or organic search results.

Organic or Natural Search Results

An organic search is a search that generates results that were not paid advertisements.
Compared with Paid Search Results many prospective patients may feel that these results are a more accurate reflection of what they might want when searching for a specific keyword, because they are generated by popularity and common usage.
Organic search engine results are the most relevant search engine results for that query as selected by the search engine.

With different SEO techniques we can optimize a website to appear in organic search engine results, and make your website to naturally show up in the search engine results for your keywords without paying for sponsored links. Contact us to learn more about our SEO services.
Sample: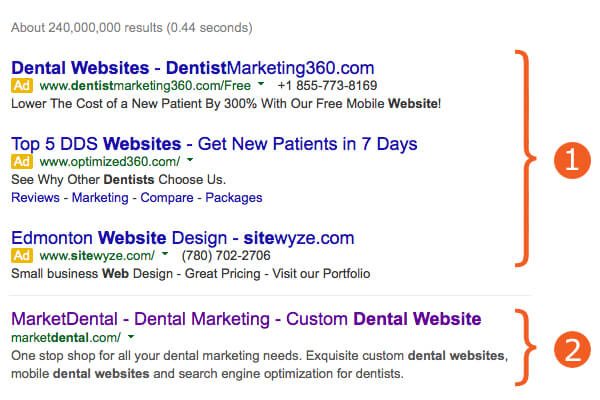 Contact us today to have a FREE SEO report!
dental website